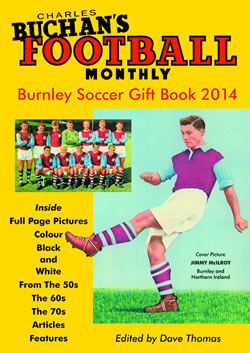 Burnley FC has a long and proud history but it was the Charles Buchan Football Monthly magazines that brought the club to a more widespread national prominence through the 1950's and 1960's.
The club was well established in the old First Division and there was a conveyor belt of great players being produced at the Gawthorpe training ground. They had consistently good results and players were regularly featured in the magazine pages. Three of them were awarded the accolade of being on the front cover.
This book will introduce these former players to supporters who were born many years later. People like me can remember them clearly. They are players from a distant era when life and the game was so different.
Buchan magazines are now highly collectable. My original collection disappeared when I left for college. Now I buy them from eBay. The big glamour clubs have all had their editions of these old magazines in glossy hardback for some time. With donations and sponsorship to pay the production costs this Burnley edition was put together and has made a most beautiful and nostalgic book.
Anyone who loves tradition and the past owes a debt of gratitude to Charles Buchan. Football was so different all those years ago. This sumptuously illustrated book gives a glimpse into the long-gone world of Burnley Football Club.
Contact the author for more information.