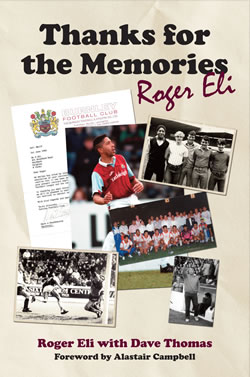 The story of Burnley cult hero Roger Eli and the promotion season of 1991/92.
Roger began his career at Leeds United but had his best seasons at Turf Moor where he finally settled before his football career finally ended. At Burnley he was voted Player of the Season in '91/92 and scored the Goal of the Season in a cup-tie against Derby County.
There are a number of themes underlying the Roger Eli book. Firstly he was one of the pioneer black footballers of the late 80s and early 90s. One of the chapters is devoted to the problems of racism in football and the trials and tribulations that these players encountered. It is also the story of how injuries can play such a huge part in a footballer's career.
Not only that, it is about how lives are affected by the decision of others, in Roger's case by managers Billy Bremner and Jimmy Mullen.
The book also features several new stories about the legendary Brian Clough whom Roger encountered when he was an associate schoolboy at Nottingham Forest. He had two great seasons at Burnley and then months of struggle and anguish as he successfully battled to regain full fitness after knee injuries. But Jimmy Mullen had no plans for him. Now a successful businessman, he followed his time at Burnley with a spell in China and one in Scotland.
"This book should be compulsory reading for all aspiring young footballers and their parents"
This book is a story of the struggle to find a niche and then how success can be so short-lived. His early career at Leeds was full of promise until Billy Bremner released all the young kids that Eddie Gray had nurtured and in whom he had such faith. Today he is a Burnley legend and his portrait is part of the mural that decorates Harry Potts Way at Burnley.
This book is now available from the author. Email Dave Thomas for more information.