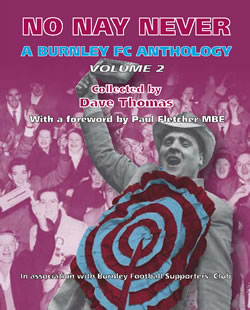 From Charles Sutcliffe to Jimmy Hogan during the club's early years; from the 1947 Cup Final to the 1962 Cup Final; from games against Rochdale during the wilderness years to games against Manchester United in the glory years; the Clarets have a history that is rich and varied.
Within the pages of this second volume of No Nay Never, Dave Thomas has put together a fascinating collection of chapters that deal with many of the key moments in the club's story, and the individual careers of several stars including, Brian O' Neil, John Connelly, Ray Pointer and Colin McDonald.
There is another chapter about Bob Lord to add to that in Volume One. There are chapters provided by the diaries of former Managing Director Derek Gill who saw at first hand the promotion of 1981/82, relegation the following season, the John Bond season of 1983/84 and relegation in 1984/85. The chapters about Dave Thomas and Martin Dobson are provided by their wives. Burnley's most remarkable supporter Dave Burnley is featured in another chapter. Celebrated author Blake Morrison looks back at his Burnley FC allegiance. Two chapters look at Stan Ternent; his promotion season, and the second of them at his final season.
Dave Thomas has looked for material in brand new books from High Street bookshops, and battered volumes from dusty, cobweb-filled secondhand bookshops, wherever he has travelled, plus the pages of the celebrated London Clarets magazine 'Something to Write Home About'. The result is another very substantial hard-back book, 32 pages of illustrations, giving a fascinating, varied look at the world of Burnley Football Club.
In association with Burnley Football Supporters' Club.
An official Burnley Football Club Publication. Order enquiries to the club shop 01282 700016.