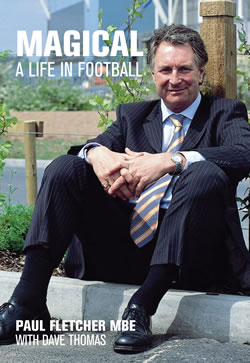 Paul Fletcher was a member of the famed team of 1972 to 1975 at Burnley FC. It so nearly became the Team of the Seventies. He was one of the best headers of a football ever at Turf Moor.
After his playing career ended at Blackpool he went on to become an after-dinner speaker, motivational speaker and stadium builder. He was involved with the new stadiums at Huddersfield, Bolton, Coventry and Wembley, and has acted as consultant on 30 other projects.
Paul has rubbed shoulders with kings and queens, prime ministers and comedians, bishops and people from all branches of the sporting world. He has played football on Blackpool beach and been speaker at the Cambridge Union.
"Some wonderful stories… amusing and insightful"
Paul has worked for the PFA and plays a mean ukulele and returned to Burnley for four years as chief executive. He experienced the promotion season and the premiership season and all their triumphs and traumas. He is currently managing director of the University College of Football Business.
"Great advice for the small percentage who make it as professional players"
This book goes through all of the magical years he has enjoyed in football and is filled with stories and humour, as well as many insights into the football world and the world of stadium building. It bounces along just like the man himself.
Published 2012. Hardback, illustrated, 250+ pages.  Email the author for more information.