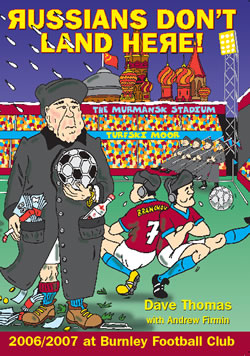 If you enjoyed It's Burnley Not Barcelona by Dave Thomas you will enjoy 2006/07 Russians Don't Land Here.
As the name suggests this is the story of the season, and mixed in are player profiles, interviews with the chairman Barry Kilby, the chief exec Dave Edmundson, head of youth development Vince Overson, director Ray Griffiths, and various other features.
The book covers every game, the ups and downs, the ins and outs and insights into all the struggles that the club has encountered over the season. If there are things to find funny, Dave finds them, but always with decorum and respect for his elders.
Dave travelled the length and breadth of the land from Leeds to Burnley for home games, from Barnsley to London, from Hull to Southampton, the lowest moment being the taste of the Potato, Cheese and Onion pie at QPR.
From a great start and the heady heights of the top six, the season fell away, but don't forget, this is Burnley not Barcelona and Dave notes things down with his usual style and gallows humour. January 2007 was a rare month; we bought players instead of selling when loadsa money came into the club.
A visit to the Tower of London inspired Dave to think of a few ways the matchday experience at Turf Moor could be improved. In the visit to Colchester, you'll also find out the origins of nursery rhymes like Humpty Dumpty and Old King Cole.
Along the way Dave also looks at the way in which a bigger club with greater potential, Coventry City, operates and compares with Burnley. They brought in 118 new players – that must help a lot.
This is a paperback book and only 1000 copies were produced.
Contact the author at dave@burnleyfcbooks.co.uk for availability and price.