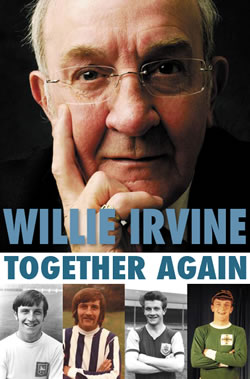 Written by Dave Thomas, this book tells the remarkable story of Willie Irvine from his boyhood days in Northern Ireland up until the present day.
Willie was one of a family of 8 brothers and sisters and had several stepbrothers and sisters that he never knew. When his father died in 1944 with Willie only 11 months old it marked the beginning of years of early struggle and hardship. It was not unknown for Willie to have to go school in bare feet. When he did arrive at Burnley as a 16 year old it was in a blazer that was two sizes too small, and with a pair of boots so old and threadbare that the other players just looked in astonishment. Jimmy McIlroy was so moved; he gave him a pair of his.
From this truly difficult beginning Willie went on to become one of Burnley's and Northern Ireland's best ever centre forwards, and holds the Burnley post-war scoring record of 29 league goals in a season. For good measure that same season he scored another 8 goals in Cup competitions. Willie went on to play for Preston and Brighton and whilst at the latter his goal against Aston Villa was BBC TV Match of the Day goal of the season runner up.
Willie's story is one of triumph over adversity and after his football career was over far too early, thanks to injury legacies, the story of the next part of his life is the story of his emergence from difficulties that would have floored lesser men. It also tells the heart-warming story of how as the writing of the book has gone on; Willie has discovered things about his own family in Northern Ireland that he never knew before. The writing of the book has also led to a reunion with his brother Bobby (Stoke City and Northern Ireland) whom he has neither seen nor spoken to for over ten years.
Contact the author at dave@burnleyfcbooks.co.uk for availability and price.