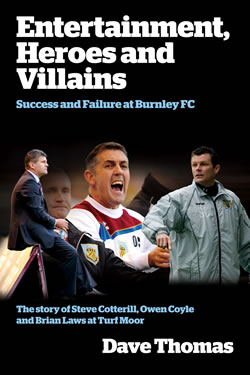 This substantial book begins with chapters on Owen Coyle's predecessor at Turf Moor, Steve Cotterill and the foundations he laid for the later success that Owen Coyle brought; promotion, Wembley, Carling Cup nights and the Premiership. It examines the saga of Owen Coyle at Burnley Football Club and the controversial walk-out that stunned Burnley.
As the dust slowly settled Dave Thomas spent several months talking to people, trawling the archives, reading just about every media piece written on the subject (and is still doing so), and has come up with a fascinating look at how the events happened.
It gives an almost hour by hour account of how his move to Bolton Wanderers happened; a move that left not just supporters but a whole town angry and bitter.
It goes on to the story of Brian Laws' doomed attempt to keep the club in the Premiership and includes the night at Bolton when 5,000 Burnley fans and their banners made their feelings known, and Coyle was branded 'Judas'.
It ends with the September night when Burnley beat Bolton Wanderers in the Carling Cup and brought a kind of closure to the sorry story. This was a game that attracted 17,602 spectators, for a fixture that might normally bring 6,000.
With input from the Chairman Barry Kilby, Director Brendan Flood and player Clarke Carlisle; contributions from Alastair Campbell and Piers Morgan, plus features, articles and news from David Conn, Henry Winter, Mark Ogden, Jim White, Frank Keating, Alan Nixon and Chris Boden the book describes the story with studious detail.
"Owen Coyle was the perfect manager from a club point of view, knew us all, took a genuine interest in what we were doing, was obliging where he could be, right up until the moment he left us and then came back and ripped the heart out of the club. It felt like being dumped by your first girlfriend, love and hate in equal amounts."
Softback publication date, 14 April 2011, price £12.99. 256 pages plus 16 pages illustrations. Email the author.