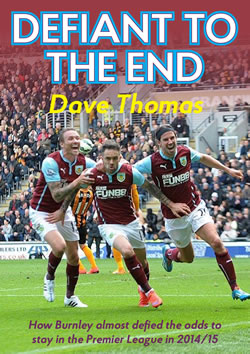 How Burnley almost defied the odds to stay in the Premier League in 2014/15
When Burnley took their place in the Premier League again at the beginning of season 2014/15, just about every media pundit and expert in the land predicted they would be hopelessly out of their depth and no doubt humiliated. By the end of the season it was the pundits that were hopelessly wrong and ended up full of praise for the supreme efforts that were made to avoid relegation.
Burnley were indeed relegated but it was not until the final few games that this was confirmed and until then there seemed every chance that Burnley could pull off a football miracle.
This is the story of the herculean efforts, covering all of the drama. The story of the season is liberally sprinkled with anecdotes, Dave's humour and everyday observations, plus many references to the club's history via stories of past players and the football of yesterday.
Of course there is analysis of where and how the brave effort ultimately failed. You can point to the player budget, frustrations with transfer dealings, missed chances, missed penalties, hitting the woodwork, bad luck, injuries, refereeing and all the many significant moments that affected the season's outcome. It was a season when so often fans came away from a game wondering just how on earth Burnley had lost this game or that. But by the end, this was a season to be proud of. This is a story of a remarkable little club and how it so very nearly defied the odds.
THIS IS A PRIVATELY PRODUCED SMALL PRINT RUN, ONLY AVAILABLE DIRECT FROM THE AUTHOR.
Softback, 236 pages. Publication date: 1st November 2015. Order direct from the author for £12.50 plus £4.00 post and packing.