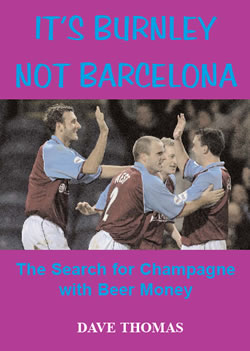 This book charts and describes a most peculiar season (2002/03), it does so with wit, humour and more than just a few laugh out loud bits.
Games are accompanied by Brysonish descriptions of other towns be they Bradford or Blackpool. Did you know for example that over half the world's horse manure can be found on the streets of Blackpool? Anyone who has ever been to Blackpool will recognise Dave's description of the place. Did you know that in Huddersfield there really is a place called Gasworks Street?
Did you know that you can choose from three different sorts of sausage at The Kettledrum while upstairs there is a funeral going on? His descriptions of sponsoring the matchball against Gillingham, attending the pie-tasting day and taking the club flight to Norwich will have you smiling all the way through. A Norwich fan makes a rude remark about Burnley's defence to Dave in the Cathedral precinct. Dave is just about to tell him to eff off until he sees it's the vicar wearing a dog collar.
"Supporting Burnley is not like supporting Man United or Arsenal. It takes real courage…"
I never thought trips to the doctor could ever be an integral part of a football book. In this book they are. Dave lives in Leeds. The doctor is a Leeds Utd supporter. It's the first football book I've read where a walk with the dog made me laugh as Dave ponders over football in general. His description of the road full of holes between Halifax and Hebden Bridge is a classic for anyone who has had to make that drive on the way to a match.
But yes, it's football that dominates the book and whether he is describing the 'good old days' of Ralph Coates, Willie Morgan or Andy Lochhead, with nostalgic fondness or Glen Little's mesmeric performance in the Cup Tie against Tottenham it's a treasure trove of great writing to remind you of every good and every bizarre game during 2002/03. His 'take-off' of Stan's great book should have you rolling off the settee. His one-liner about the difference between being a manager and a headmaster is priceless but far too rude to put here.
Diaries are funny things. As soon as they are written they are out of date and in a conversation Dave said to me the best time to read a diary is ten years on. Then – read it again ten years from now. It should still make you laugh.
"It makes for a wonderful read because it is written so well and by a real fan"
Contact the author at dave@burnleyfcbooks.co.uk for availability and price.