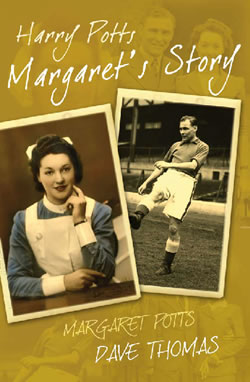 This book, in words and illustrations, tells the story of Burnley manager Harry Potts, whose partnership with chairman Bob Lord produced the club's greatest years in the sixties.
The Potts story is told through the eyes of his wife Margaret and through the narrative of writer Dave Thomas. Their interwoven stories tell of the love affair that Harry had with Burnley, and the influences on him.
There were so many strands in Harry's life, football, his wife and family, Bob Lord, and his mother whose influence he could never escape. His story is also that of a small-town football club, once a great power in the land, but which then declined as the years went by because of the abolition of the maximum wage and the dominance of the wealthy city clubs. And all the way through, runs the story of chairman Bob Lord, who for many years saw Potts as the son he would have loved as his own, but then replaced Potts with Jimmy Adamson.
Woven into the narrative is the story of Lord's influence that was all powerful, his early work that built the foundations of greatness, then his final years and his stubborn chairmanship which saw the club sink into near closure.
"A human story about Harry who really was a great man and a gentleman"
This is a book, with some wonderful Press reviews, that nostalgically evokes the bygone age of the 30s when Potts began his playing career, and then the 40s when he met and married Margaret.
This was the decade when the Potts/Lord friendship began and when Potts was a key member of the great Burnley side of 1946/ 47 that won promotion to Division One, and reached the Cup Final. It moves on through the 50s when the Potts/Lord football partnership was truly born and the embryonic manager gained experience at Shrewsbury before arriving at Turf Moor as manager. It journeys through the 60s when Burnley played in Europe, were all powerful with their endless production line of wonderful players, and then the 70s, by the end of which it all became too much for clubs like Burnley and managers like Harry Potts.
It details the heartbreak that Potts felt when Jimmy Adamson replaced him in 1970. It looks at the years he managed Blackpool FC when he dramatically missed promotion to the old Division One by just 6 minutes in the very last game of the season.
"Dave Thomas writes really well, and tells a good story"
Contact the author at dave@burnleyfcbooks.co.uk for availability and price.