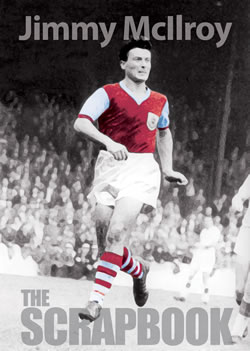 Dave Thomas has now completed work with Jimmy McIlroy on both a biography and a very special and prestigious 'coffee table' scrapbook.
THE BIOGRAPHY
Jimmy is regarded as Burnley's greatest ever player and still lives in the town. The biography looks in detail at his life, humble beginnings and career at Glentoran, Burnley, Stoke City with Stanley Matthews and Oldham Athletic with Ken Bates, and then at his life after football. It examines the highlights of his career, the transfer that shattered a town and all the rumours surrounding it; his best remembered players and games, and his international career. He belongs to a bygone era and the book is evocative of a distant age when values were so different.
The Jimmy Mac Biography comprises 280 pages in A4 large format, is profusely illustrated and priced at £19.95.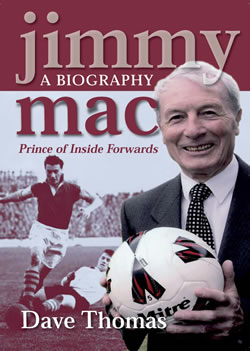 THE SCRAPBOOK
The scrapbook is a large format, visually stunning book and is quite unique. As far as we know there is no other football book like it. It is, as its title suggests, a collection of memorabilia, pictures, and articles. It complements the biography and there is minimal overlap or duplication of pictures used in each book.
There are only 300 copies available and is sure to become a real collectors' item. Price £42.
For biography enquires contact the author at dave@burnleyfcbooks.co.uk. Please give address, email and telephone number details with any enquiry. The scrapbook is available direct from the publisher on 01706 210582.