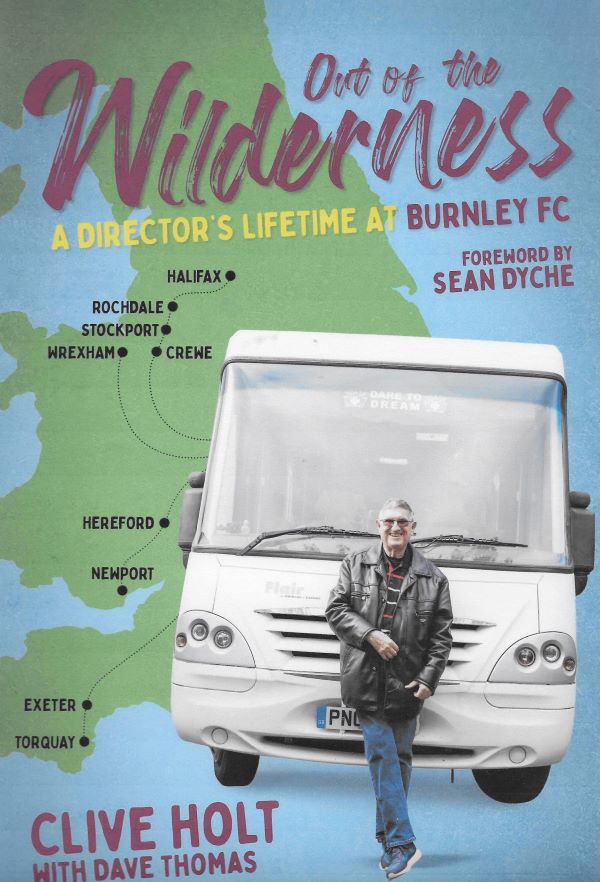 A Director's Lifetime at Burnley FC
By CLIVE HOLT with Dave Thomas

Clive Holt was a director at Burnley Football Club for nearly 35 years, leaving the board in 2020.
During that time, he saw everything from the Orient game in 1987 when Burnley almost lost their league place, to promotions with Jimmy Mullen, Stan Ternent, Owen Coyle and Sean Dyche.
His knowledge of the workings of the football club were encyclopaedic, and as Company Secretary he knew exactly what was going on throughout the club.
He has innumerable stories to tell from other boardrooms, managers, other directors, and tells the inside story of 35 years at the club and 7 years in the wilderness of the Fourth Division.
Every committee or boardroom needs someone who asks awkward questions or sees what might be coming around the next corner. Clive was that man at Burnley FC.
With his huge motorhome that towed a small car, with his wife Sylvia, he rarely missed a game, whether they were the dreadful games of the old Fourth Division when Burnley were in the doldrums, or the heady afternoons at Old Trafford, Stamford Bridge or the Emirates in the Premier League. He was in a unique position to be part of how such a small club managed to spend so many seasons in the Premier League.
He left the board when the club was bought by an American company, ALK, but continues to attend games with a devotion that has never wavered.
KEY FEATURES
35 years of Burnley FC history to the present day as seen from the inside and the boardroom, with many previously unpublished stories and countless anecdotes.
How prospects for the club improved when Barry Kilby became chairman and Stan Ternent took the club to promotion
Includes the promotion to the Premier League in 2009, the Owen Coyle walkout and immediate relegation
And moves on to all the Sean Dyche years.
Ending with the takeover by ALK an American company and then the shock dismissal of manager Sean Dyche
The perhaps inevitable relegation in 2022 following 6 years in the Premier League
Based on Clive Holt's intimate knowledge of how the club was run and his memory for details
A story of politics and confrontations and a natural chronological follow on to the previously published 'A Director's Tale' by Dave Thomas and published by Pitch
The co-author has known Clive Holt for over ten years.