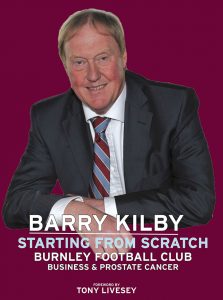 This is Barry's story of how he became involved with the club and oversaw its great recovery.
He became chairman of Burnley Football Club at a critical time when the club was drifting without money. He invested in it, revitalised manager Stan Ternent who won promotion, thus beginning the climb to the Premier League in 2009 with manager Owen Coyle.
Prostate cancer saw him relinquish the chairmanship but he remained as a director to see all the years in the Premier League with Sean Dyche and then relegation and the sale of the club to ALK Capital. No longer on the board, he is still as much a fan as ever.
This is also the story of how he built his business and in recent years has devoted his energies to the Barry Kilby Prostate Cancer Appeal, which has saved many lives.
Proceeds from this book will support the BKPCA
£24.99 hardback, 300+ pages and 24 pages photographs.